Finnish Kesla presents a new crane package for the Swedish market at the Mittia fair in Ljusdal, Sweden, on 18–19 August 2023. The package includes a crane with the Swedish X-Cab and Olsbergs control valve and full control system.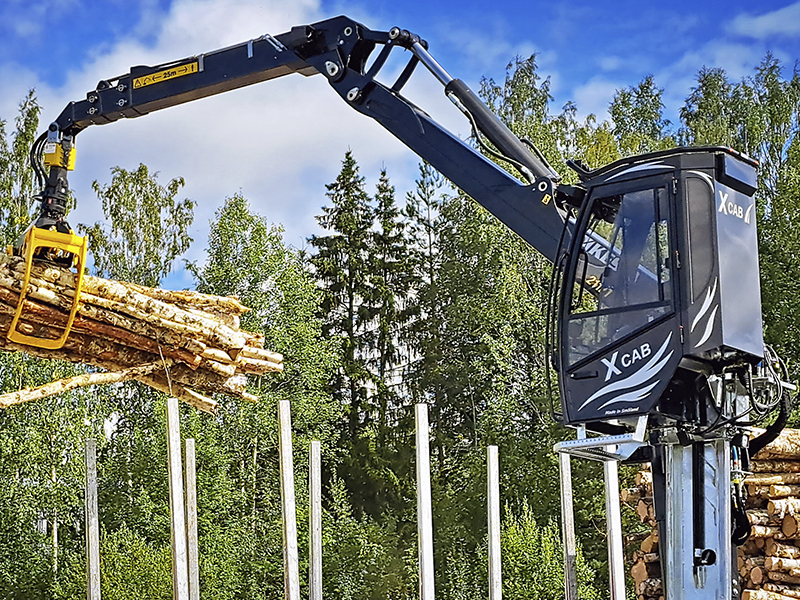 Finnish Kesla is known worldwide for its timber cranes. Kesla offers cranes with various accesso-ries, including the KESLA Vision cabin and KESLA proC control system. The company has now developed a crane package for the Swedish market to better serve its customers.
"In Sweden, a large share of the cranes are sold as a complete package," says Ari Pirhonen, Business Director, Truck and industrial cranes at Kesla Oyj.
"Now, you can also get a KESLA crane as a complete package. The crane package includes the Olsbergs valve and control system, so Swedish customers can get their KESLA crane with the complete Olsbergs control feel they have wanted. Complementing the package, the Swedish X-Cab is highly customizable to each customer's needs.
Ready-equipped
The new concept is available for the most popular 10- and 12-tonne straight-boom KESLA cranes. The cranes come ready-equipped, but most KESLA crane accessories and features are also avail-able as an option for the concept models.
"For example, you can get the stabilizer integrated or separate," says Pirhonen.
Since both X-Cab and Olsbergs are widely used in Sweden, the after-sales, spare parts, and technical support network are excellent. Sold by Floby and Alucar The new package is sold by Floby and Alucar, both of which offer customers a complete package to suit their needs.
In addition to the new operating model, Kesla still has an active dealer network in Sweden, offering the entire range of KESLA cranes.
KESLA crane package sales contact:
Alucar Oy / Thomas Partanen / thomas.partanen@alucar.com / +358 407426631
Floby Nya Bilverkstad AB / Magnus Thorild / magnus@fnb.nu / +46 51 54 00 65
For more information, please contact:
Kesla Oyj, Truck and industrial cranes, Sweden
Business Development Manager Toni Lehtinen, tel. +358 40 869 7853